Your GitHub profile views statistic
Referral registration statistics
Track your GitHub profile views
Receive, view and analyze your profile views and profile performance statistics
INSTRUCTION
Follow these steps to get started:
Create a public repository with the same name as your username
/

rzashakeri/rzashakeri
is a ✨
special
✨ repository that you can use to add a README.md to your GitHub profile. Make sure it's public and initialize it with a
README
to get started.
Copy a badge code from your profile page
Markdown: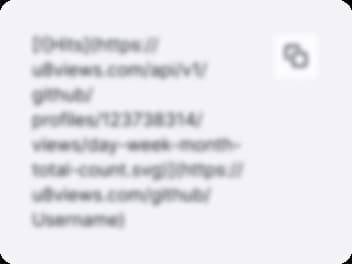 HTML link: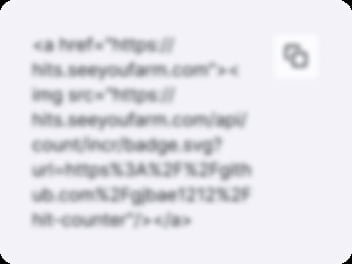 Add a badge to GitHub profile
Go to edit the README.md file
rzashakeri
rzashakeri / README.md
Hi there 👋
and add the counter to the README.md file using the Markdown syntax
rzashakeri/rzashakeri
is a special repository: its README.md will appear on your profile!
### Hi there 👋

[![Hits](https://u8views.com/api/v1/github/profiles/62311769/views/day-week-month-total-count.svg)](https://u8views.com/github/rzashakeri)
View and analyze view statistics for your GitHub profile
You can also see referral registration statistics from your profile